OURTEAM
DAVID BROW ART SINGAPORE ACADEMY VIP MASTER CLASS TRAINER
THE WORLD FAMOUS SEMI-PMU GRAND MASTER DAVID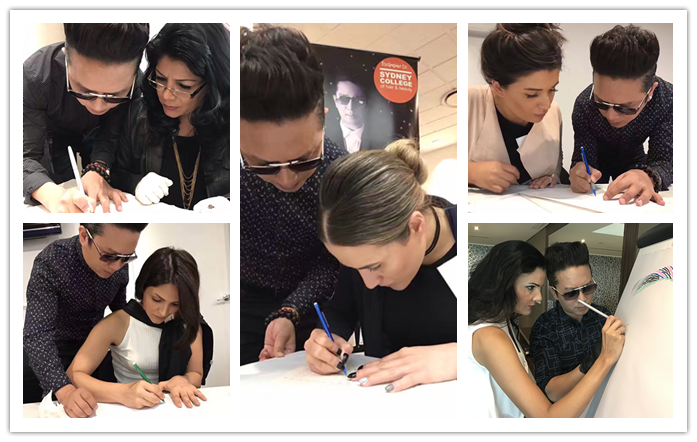 MR DAVID IS THE PRINCIPLE OF THE ACADEMY, HE IS A GRANDMASTER AT THE HIGHEST LEVEL AND ALSO THE CREATOR AND FOUNDER OF 3-DIMENSIONAL AND 6-DIMENSIONAL EYEBROW, PAINLESS TECHNIQUES FOR EYEBROW, EYELINER AND LIP TATTOO. HE SOLELY INNOVATED A 3D TECHNICAL PEN TO CREATE A NEW TECHNIQUE BY DESIGNING EYEBROW WITH EYEBROW LINE DRAWING AND WITH HIS UNIQUE WAY OF INTERACTING WITH CUSTOMERS TO ATTAIN CUSTOMER LOYALTY.
6-DIMENSIONAL MICRO-BLADING EYEBROW TECHNIQUE HAS BEEN RECOGNIZED AS THE WORLD BEST TECHNIQUE WORLDWIDE TO DATE. DAVID HAS ALSO BEEN INVITED AS THE HONORARY JUDGE FOR MULTIPLE YEARS IN THE COMPETITIONS. – THE WORLD OF MICROBLADING AND CONFERENCE / TRAINING, AMSTERDAM, HOLLAND. WORLD EYEBROW FESTIVAL, ROTTERDAM, HOLLAND.
MR DAVID PASSION FOR EYEBROW MICRO-BLADING HAS EARNED HIM MUCH RESPECT FROM THE INDUSTRY AND WITH OVERS 20YEARS OF EXPERIENCE HE HAS ELEVATED HIMSELF AS A GRANDMASTER IN THIS INDUSTRY. HIS UNIQUE TASTE AND CREATIVITY IS SOMETHING WHICH DIFFERENTIATE HIM FROM PEERS. HE GAVE HIS LIFE TO THE LOVE OF THE ART TO CREATE 3-DIMENSION TECHNIQUES, PAINLESS EYEBROW MICRO-BLADING, EYELINER AND LIP TATTOO; 3-D TECHNICAL EYEBROW PEN, MAKEUP TECHNIQUES. THROUGH THE 3-D TECHNICAL EYEBROW PEN TECHNIQUES, HE FOUND A BREAKTHROUGH OUT OF THE SINGLE DIMENSION EYEBROW DESIGN INTO THE MULTI-DIMENSIONAL EYEBROW DESIGN. THE CREATION OF 3D AND "DAVID TECHNIQUE" HAS CREATED AND MARKED AN EPOCH IN HIS GENERATION. ANOTHER TRADEMARK CREATION FROM DAVID IS "DAVID STROKE" AND "PPL STROKE", A TECHNIQUE THAT HAS BROUGHT THE WORLD OF EYEBROW MICRO-BLADING TO GREATER HEIGHTS, SET GREATER STANDARDS AND BROUGHT THE ART TO A GREATER LEVEL.
MR DAVID CORE OF APPROACH TOWARD PEOPLE AND TEACHING IS "SINCERITY". WITH 24 YEARS OF TEACHING EXPERIENCE, HE HAVE SIMPLIFY THE COMPLEX ART OF EYEBROW MICRO-BLADING AND COMPOSE A SONG TO FURTHER SIMPLIFY THE ART TO PASS ON TO HIS STUDENTS. THEREFORE, HE BELIEVES THAT ONCE YOU HAVE LEARNT THE SONG THAT HE COMPOSED ONE WILL BE ABLE TO UNDERSTAND AND TEACH AND PASS ON THE TECHNIQUES.
HIS STUDENTS COMES FROM ALL DIFFERENT WALKS OF LIFE AND FROM DIFFERENT COUNTRIES, ENGLAND, GERMANY, ITALY, POLAND , LITUANIA, HOLLAND, FRANCE, BELGIUM, LUXEMBOURG, MONACO (FRANCH ZONE), AMERICA, MEXICO, BRAZIL, RUSSIA, MALAYSIA, INDONESIA, THAILAND, HONG KONG, SINGAPORE, TAIWAN, INDIA, PHILIPPINE AND CHINA.
UNDER HIS BELT, DAVID HAS TRAINED MULTIPLE ARTIST, KAREN BETTS FROM ENGLAND AND GITANA FROM LITUANIA IS A FINE EXAMPLE. THEY TRAINED UNDER DAVID BROW ART INTERNATIONAL ACADEMY AND WERE VERY HARDWORKING STUDENTS. THIS YEAR KAREN BETTS AND GITANA HAS BEEN INVITED TO THE CHINA WORLD OF EYEBROW MICRO-BLADING 2016 COMPETITION AS JUDGE AND AN EXCHANGE PROGRAM TO SHARE AND ADVISE FELLOW ARTIST ON THE TRENDS AND NEW INNOVATION IN STYLES.
DAVID BROW ART INTERNATIONAL ACADEMY HAS AGAIN TRAINED ANOTHER STUDENT TO BECOME IN MICRO-BLADING. 10TH JANUARY 2016, THE WORLD OF MICROBLADING CONFERENCE/ TRAINING IN HOLLAND, AMSTERDAM, HAS BEEN AWARDED TO LYNSEY TA FROM UNITED STATES. WE ARE PROUD TO SHARE THAT LYNSEY TA IS A VIP STUDENT AT DAVID BROW ART INTERNATIONAL ACADEMY.
AT THE WORLDWIDE EYEBROW FESTIVAL IN APRIL 21ST – 23RD 2016, ROTTERDAM, HOLLAND, 2 OF OUR OUTSTANDING STUDENTS, HAVE WON THE 1ST AND 2ND PLACE IN THIS EXCLUSIVE COMPETITION.
HIS OUTSTANDING ACHIEVEMENT HAS PUT MR DAVID IN A PERFECT POSITION AS AN UNDISPUTED INDUSTRY LEADER. MASTER DAVID HAVE BEEN INVITED FROM HIS CLIENTS FROM ALL OVER THE WORLD JUST FOR HIS 3-DIMENSIONAL EYEBROW DESIGN AND HAVE MADE HUNDREDS OF THOUSANDS SOLELY THROUGH THIS SERVICE. DUE TO THIS HUGE SUCCESS, MANY MNC ACROSS THE WORLD HAVE INVITED AND APPOINTED HIM AT THEIR CHIEF TECHNIQUE CONSULTANT.
MASTER DAVID ALWAYS HAS A HEART FOR THE PEOPLE AROUND HIM, HE IS ALWAYS CONSTANTLY TEACHING AND SHARING HIS EXPERIENCES AND TECHNICAL KNOWLEDGE. DUE TO HIS TECHNIQUES AND HIS ARTISTIC TASTE, DAVID HAS ATTRACTED MANY ROYAL FAMILIES FROM ASIA AND EUROPE, HIGH NET WORTH BUSINESS OWNERS AND FAMOUS CELEBRITIES TO APPOINT HIM AS THEIR FAMILY EYEBROW ARTIST.
MASTER DAVID HAS ALSO CREATED INTERNATIONALLY RECOGNIZED, DAVID MASTER COLOUR. UNDER THE BELT OF THIS BRAND, THERE'S NANO COLOUR, WORLD FIRST FINEST ARK SHAPE BENDABLE NEEDLES, LONG LASTING PAINLESS NUMBING CREAM, STABLISING LOTION, LINE DRAWING EYEBROW PENCIL; IMPERIAL MACHINE SERIES OF PRODUCT. THESE ARE PRODUCTS MANUFACTURED FOR THE HIGHEST STANDARD TO SHARE WITH THE WORLD, REGARDLESS IN THE EAST OR THE WEST. THESE PRODUCTS ARE ALSO GREATLY RECOGNIZED BY FELLOW MASTER ARTIST AROUND THE WORLD.
UNDER THE BRAND OF DAVID HAIR GROWTH CARE, IS CREATED BY WORLD CLASS HAIR EXPERT AND LED BY NONE OTHER THAN DAVID HIMSELF. HE COMBINED THE LATEST TECHNOLOGY FROM THE WEST WITH THE TRADITIONAL FORMULA FROM THE EAST IN ORDER TO CREATE THIS UNIQUE RECEIPT. THIS PRODUCT CAN BE APPLIED DIRECTLY ON THE SKIN, IT CAN BE ALSO CONSUMED TO IMPROVE INDIVIDUAL BODY SYSTEM, MOST IMPORTANTLY THIS AMAZING PRODUCT HAVE BEEN VERY WELL RECEIVED BY HIS LARGE NETWORK OF CUSTOMERS, HENCE WITH THIS PRODUCT, DAVID HAS COMPLETED HIS MISSION TO PROVIDE A COMPLETE SOLUTION TO HAIR PROBLEMS.
TO WORLD-RENOWN MICRO-BLADING ARTIST, MASTER DAVID, "PASSION" IS EYEBROW MICRO-BLADING, "SINCERITY" IS HIS APPROACH TOWARD PEOPLE. THROUGH HIS ARTWORK, HE SHARES HIS EXQUISITE TASTE AND STYLE. MOST IMPORTANTLY HE PLEDGE TO EMBED THESES VALUES INTO IN WAY OF LIFE. MASTER ARTIST DAVID HAS ATTAINED PERFECTION AT THE HIGHEST LEVEL IN EYEBROW MICRO-BLADING AND HE HIMSELF IS THE PERFECT DREAM FOR INSPIRED ARTISTS.